Quotes and Stories
---
Given that there are ten of thousands of folks associated with horse racing, whether it is in California or another state, you will find that there are just as many stories about what the sport means to them, as well as some photos (and that does not even begin to cover the plethora of tales they have to share). Featured on this page are some of them for you to read. Each one comes from a different person, but there is one constant: they all love racing, and it means something special and personal to every single one of them.
---
1.) My name is Vickie Neal Willmuth and I support horse racing. I have not missed a Preakness since the age of eight. I've stayed home, even at that age, to watch the Preakness. As I got older, living twenty miles out in the country, rather than "go to town" on a Saturday, because I might miss the race, I've stayed home. I have missed wedding showers, baby showers and birthday parties of family and friends because they were scheduled on my race days. My family understood and just shook their heads laughing at this crazy horse girl.
Yes, I am disappointed with the outcome of the Derby. I have my own opinion as to what should have been the stewards decision but I have been disappointed by this sport before in fifty-three years; it has its flaws. But this is my sport, the horses are my heart. Regardless of the disappointments, I will be watching the Preakness Stakes, I will cheer on those that walk to the gate at Old Hilltop. I am a racing fan, rain, sleet, snow, flood, famine, disqualifications or suspensions. I will pick myself up, dust off the disappointments, hitch up my jeans, and be on the rail--be it via television or at my home track. For me this Preakness is about the history, not the Triple Crown.
The pageantry of all those fleet of hoof that have taken Old Hilltop by storm--the ones who came on their journey to the Triple Crown and succeeded, the ones that snatched a Triple Crown away, the ones that no one thought could win, that did, the ones that went down almost to their knees, sending their jockey up their neck, and STILL won the Preakness. (Thank you Afleet Alex for shortening my life by ten years). Yes I will be watching the Preakness, with as much love for that sometimes forgotten and overlooked middle child, as I have had for over fifty years. But, that's just me. #wesupporthorseracing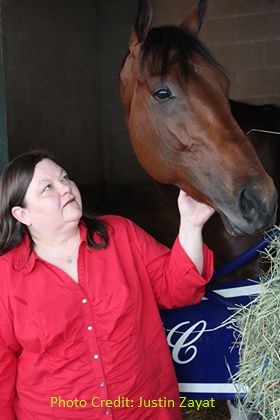 Photo was taken at Oaklawn Park of American Pharoah and me the day before he won the Rebel Stakes.
I met Justin and Benjamin at the backside of Oaklawn the day before the Rebel Stakes and they took me to Pharoah's stall. Justin was kind enough to take my camera and snap photos for me.
---
2.) My name is Karen Oman. I'm a Chromie and I support horse racing. My love of horse racing began when I was fortunate enough to watch California Chrome train at our local track, Los Alamitos. I made wonderful friends because of Chrome. Now, Chrome is retired and making baby Chromes in Kentucky. I've been able to visit him twice since he retired. I'm blessed that the friendships I made still endure.
One of those friendships is with his trainer, Art Sherman. Several times a month, other Chromies and myself meet with him for coffee and donuts. We get to watch him train his new charges. He and his son Alan are dedicated and devoted to the well-being of the horses in their barn. They personally check out each horse after they work. They employ Raul Rodriguez, his wife Florentina, brother Oscar and others who take great pride in their work, often getting awards for "the best turned out" at the races. Art's career spans many decades, has known amazing highs and lows, and he is dedicated to the good in horse racing, often working with rescue groups to find good homes for the horses in his care when they retire. #wesupporthorseracing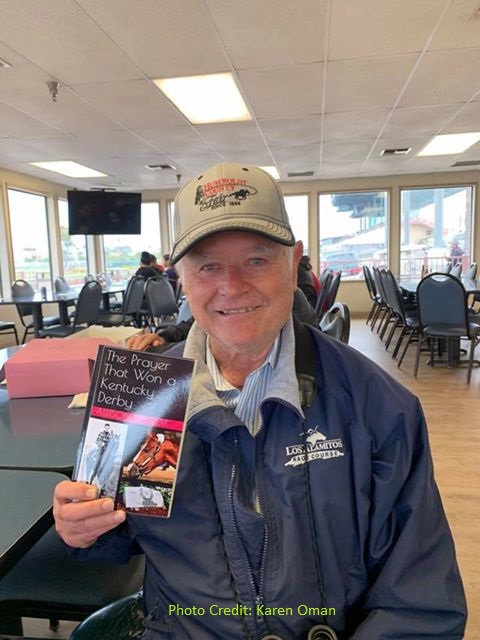 ---
3.) My love of horses & racing started when I was a little kid at Hollywood Park with my dad. I got to get close to the beautiful Thoroughbreds and there was an instant connection, that is still present today. Los Alamitos, Del Mar, even Golden Gate up north have all been visited by me, and left their mark on my heart. Many years later I had the chance to actually own a racehorse—as a partner, in a partnership. We got to see our colt qualify for the Kentucky Derby only for him to suffer an injury that kept him recuperating for over a year. Then when he was rehabbed & healthy, we nominated him to the Breeders Cup Turf which was to be run at Santa Anita that year. A wet, rainy pre-BC week left the turf track soggy, he took a wrong step during a workout, and injured the other front leg. It wasn't fatal but it was career-ending—and dream ending. It's a tough business—but oh the highs...of standing in that winner's circle surrounded by fans & friends, of enjoying the company of other like-minded & avid fans over a never-ending stream of dim sum tidbits at a nearby restaurant, and of feeding a bay or chestnut peppermints & carrots & having them drape their heads over your shoulders. There's truly nothing that compares, in any other sport or hobby.
If racing was no more, if the thunder of hooves & the smells of leather & liniment, or the screams of a crowd watching their favorites lunging toward the finish line ever went away, we would all be much less for it. No one can explain the nobility of a horse, the selflessness & honesty of its efforts to please, or the way it pricks up its ears when it hears that call to the post. We mere humans will never understand it—but we must preserve & respect it. -Carmela DiCola Bozulich
---
4.) My favorite memories:
(1) One of my first trips to the track was to watch Sham, my favorite all-time horse and Twitter handle, run in the 1973 SA Derby. He beat Linda's Chief that day in record time. I'll always remember that day. I had $5 to win on Sham, got back $14 and thought I hit the lotto I was so happy.
(2) The day Zenyatta became the only female to win the BC Classic will be etched in my memory forever. Never have I heard Santa Anita so loud. The place just exploded. I was in the press box and still remember Trevor's call ... "This is un- be-leeeeev-able." And it was. Truly a magical moment that helped make The Great Race Place what it is. -Art Wilson
---
5.) My California story is this...2009 I was brand new to horse racing and found the TV program series "Jockeys" which was broadcast on the ANIMAL PLANET CHANNEL ...it was a stellar introduction to So Cal racing and I learned a lot about all the players there...and then I started following So Cal...it was my personal invitation to Hollywood Park! -Linda Marie
---
6.) We wanted to share our story of how we have come to own racehorses. First, we both love the California Racetracks and Santa Anita in particular. Over the years, each of us have shared many great moments watching our favorites race from lower level claiming horse Calabonga to multiple stakes winner John Henry. Our biggest thrill has been when we purchased our first mare together: Margie's Minute. We fell totally head over heals in love with her. We cheered on her victories and when it was time for her to retire we chose to keep her as our first broodmare. We have a wonderful yearling filly by Smiling Tiger and she is currently In foal to another of our favorites: Goldencents.
Jerry and I have witnessed first hand the excellent care and love the horses receive and are proud to be a part of the horse racing industry. We love visiting all of our horses and we are excited to see what the future brings. -Jerry Baker and Connie Snider Baker
---
7.) There have been a lot of California horses that I loved & have followed through my life (especially for breeding), but who got me really following So Cal Racing? LAVA MAN!!!!! And who got my friends & myself flying in to the tracks 5+ times a year? California Chrome!!!! And we have been attending Santa Anita & Del Mar regularly ever since! Honorable mention to our dedication should be given to Zenyatta, Shared Belief, Dortmund & Accelerate. -Liisa Luick
---
8.) My name is Brittany Pannell and I support horse racing. Horse racing is not just a sport it is a lifestyle. Horse racing has been around for over 350 years in the United States and is a part of so many people's daily life. Horse racing attracts people from all over the world. Whether it be the spectators who watch the races, the betters, the grooms, trainers, jockeys, owners, veterinarians, security guards, etc. Everyone plays a huge part in making horse racing what it is today.
I have been involved with horse racing since 2012 when I worked at Hoosier Park Racing and Casino in Anderson Indiana. I bought my first racehorse Hoosier Jack Pot in December 2015 and have been an owner and hooked on horse racing ever since. I currently work as a hot walker/groom for these magnificent animals. My life would not be the same without these animals. Getting to spend time with my horses and the horses I work with keeps me going and give me pleasure in watching them do what they love to do. Running is in their blood. -Brittany Pannell
---
9.) My name is Ann Ferguson and I support horse racing. My mother put me on a horse when I was two years old. That started what I call my affliction. She took me to Hollywood Park ,Churchill Downs and several other tracks when I was young. I live in Indiana so all we had for many years was standard bred racing. I didn't care, it was horse racing! I wanted to be a jockey. I got my first horse when I was 12. My hubby and I raised Appaloosas and bred two of our good mares to a son of Doctor Fager in Kentucky. I'm a retired registered nurse and I work part time at Indiana Grand Racing. -Ann Ferguson
---
10.) My love for California racing began in December of 2007. I went at the urging of a friend, and us and my dad all went to Santa Anita. It was the first time I had visited a racetrack, and from the moment the crowd cheered the horses down the stretch in the first race, I became a fan.
During that initial visit to Santa Anita, I was impressed by how the venue looked. That iconic Art Deco grandstand, the statues of Seabiscuit and George Woolf, the fact so many legendary horses and jockeys have competed there, and that members of classic Hollywood spent time there.
Since that time, racing has become my passion, and it has changed my life for the better. -Alan French
---
11.) My name is Casey Phillips and I support horse racing. It first started when my dad gave me the book "King of the Wind" the story of the Godolphin Arabian and of course Man O' War. I loved reading every horse book I could get my hands on, but the thoroughbreds were my passion. Then, in 1973, I sat mesmerized watching an old black and white tv with rabbit ears, hearing the words "He's moving like a tremendous machine" as tears raced down my cheeks. I was officially hooked. I never cared about the gambling side of it, still don't, but every chance I could get, I would watch racing. Life happens, things take a back seat, but then the daughter of a friend of mine got very involved in horse racing, and told me about a horse named "Lava Man".... Then came a filly named "Zenyatta". A friend and coworker took me to Hollywood Park to watch Zenyatta win her 19th race on my birthday. At the time I was working graveyards and going to school full time, so I didn't get to go very often. In 2012, I had to have 3 surgeries on my wrist and hand, which required me to be out of work for 22 months. I would go to Hollywood Park or Santa Anita and take photos of the morning works and races just to keep from going stir crazy. This evolved into me starting to photograph more seriously. Through my photographs, I became acquainted with trainers and owners. A horse named Paynter brought me in close contact with his owner and trainer because, as a licensed veterinary nurse, I had been very interested in his illness and when he went back into training, I would photograph him and visit him and let the owner know what my perceptions were. - Casey Phillips
In 2014, I watched a 2 yo old with a scoot of a tail win the Frontrunner stakes at Santa Anita and told everyone- "That's my Derby horse, he's got what it takes to win it all". No one believed me. Dortmund was also in that foal crop and of course, that 2 yo who was favored to win the Breeder's Cup Juvenile, but ended up being scratched due to an injury. It didn't matter, I knew he was special. I photographed him every chance I could and called him Baby Boy. Even his trainer and owner would say "How does your boy look?" After American Pharoah won the Triple Crown, I was approached by a company that was making a t-shirt for the Breeders' Cup and was looking for an image of him. The owner had specifically requested they approach me. My photo graces the 2015 Breeders Cup Classic shirt and subsequent Grand Slam shirt complete with photo credit. The following spring, I was hired on as a track photographer for Eclipse Sportswire and I've had the privilege of photographing some of the greatest horses of this decade. I have also been privileged to get to know some of the most caring, dedicated and professional people who care for these majestic animals. -Casey Phillips
---
12.) My name is Meredith Gibbs and I support horse racing. I have no idea where my love of horses came from but I can remember my joy bouncing along on pony rides when I was just two years old. I was obsessed. My parents thought I descended from aliens I suspect. I never had my own horse but would never pass up an opportunity to ride anywhere or anything. While other preteens were ogling movie idols from magazines, I cut out pictures of race horses. I had three daughters and tried to get them "into" horses. My youngest one did and at 42 still shows jumpers. I followed racing all my life and in 1987 went to the Kentucky Derby. In the early 90's I got the opportunity to buy into a racehorse. Eventually the other people left the partnership and I was left with two horses. The first one broke down at Del Mar. The devastation that the trainer and grooms felt made me realize how much they loved these animals. It happened to be the year at Del Mar that saw way too many breakdowns. The second was retired to a backyard and loved by a family who rode him on the trails. That was the end of my ownership. It was too expensive with a family.
Four years ago I got the opportunity to become a part of Little Red Feather Racing and it is a perfect fit. Everyone involved has a love for horses, they are scrupulously ethical and use the best trainers.I have no idea what caused the spate of injuries right now, but knowing horses, for the most part, they are cared for better than any stable horse or wild horse could hope for. Little Red Feather Racing also has an aftercare program as well as a charity. I believe that all owners and trainers should make the safety and welfare of the horse their highest priority and if found guilty of not doing that, they should pay the consequences. - Meredith Gibbs
---
13.) My name is Nicole Weakley and I support horse racing. If it weren't for Thoroughbred Horse Racing, I wouldn't have met my beloved OTTB (Off the Track Thoroughbred) mare Tribella. I claimed Tribella in 2016 at Golden Gate Fields and had no idea the journey life had in store for us. During my time as her exercise rider and owner,Tribella ran the best 2 races of her career. I chose to retire her sound in 2017 and re-train her myself as a jumper. Thoroughbreds naturally possess many qualities coveted in the Sport Horse world which include: heart, stamina, athletic ability, and versatility. OTTBs are one of the most beautiful and amazing results of the racing industry. Conversely, the experience of watching Tribella run her heart out and win for me changed my life, and ultimately hers, forever. People DO love their racehorses and look out for their welfare, both while they're running and afterwards. It's a passion. -Nicole Weakley
---
14.) My name is Alexis Farris and I support horse racing. Though not actively working at the track with racehorses, that part of my life will forever be special to me. My daughter spent the first 3 years of her life growing up at Golden Gate Fields and Portland Meadows. I re-homed over 30 thoroughbreds. My heart stays in the racing community and I want to be a voice for how much we as trainers/groom/pony riders etc care for and love our horses. It's not a hobby, it's not just business, it's family and it's a lifestyle. -Alexis Farris.
---
15.) My name is Lori Stein and I support horse racing. As a very young girl I fell in love with horses. I started out showing in halter classes, then moved on to riding western pleasure. I had the luck to meet a wonderful trainer at that time who showed in hunter/ jumper classes. That was it for me. I was in love! I lived for when the spring would come and it was time to start the work that would lead to showing our horses over the summer. While most of my friends would spend their time at the pool and the drive-in, I only had one thing on my mind, horses! I was blessed to be lucky enough to figure out who I had that was best in Junior Hunter and who I had that I could excel with in Equitation. I remember those days with such fondness, as life took me in such a different direction.
Years later, as somewhat of a casual racing fan, I watched as Smarty Jones won the Derby and Preakness, but was denied the Belmont. After that along came the one and only Barbaro! Fate would have me see him win the Tropical Park Derby and then the Holy Bull and Florida Derby. He was trained by Michael Matz, who I knew as an Olympic Equestrian. I was once again in love. We all know Barbaro's story, but he was the horse that brought me to racing as more than a casual fan. As I followed his struggle and so sadly his ultimate death, through the stories of Bloodhorse, they somehow led me to following other racehorses. First there was Invasor, then Curlin and ultimately the horse that got me completely hooked, Zenyatta! She was it for me, complete JOY!!!
As the years have gone by and my love for the horses and the sport has endured, I feel I must speak up. I must speak up for the horses that give us their all! I must speak up for the people who day in and day out take care of their horses with every bit of their heart! I must speak up for the fans, the fans like me who live for the love of the sport! I must speak up for sport that in my heart is still ' the sport of kings!' I simply must speak up! -Lori Stein
---
16.) My name is Louie Dula and I support horse racing.People who go to the race track usually don't get to see how hard the people on the backside work and without all of them there would be no racing. They are there every day caring for the horses and I applaud them for how much they care. -Louie Dula
---
17.) My name is Nicole Meiner and I support horse racing. My mother has been a fan her entire life, so I've been watching the races for so much of my life I don't have memories of starting. She took me to my first racetrack (Churchill Downs) and my first stallion farm (Three Chimneys, where I got to meet the late, great Dynaformer). The first horse I ever picked in the Kentucky Derby was More Than Ready in 2000, and in 2003 I became one of the millions inspired by Funny Cide. At that point, I started following the sport year-round. In the years since, I've become attached to many horses, the more well-known ones including Afleet Alex, Big Brown, Game On Dude, I'll Have Another, Paynter, the Triple Crown winners, Arrogate, Enable, McKinzie, and Signalman. The horse I'm closest to, however, is Da Hoss, despite not having a memory of watching any of his races, though I most certainly was in front of the television at age three and five when he took his Breeder's Cup Miles. (Having a famous racehorse that you've loved for so long recognize your voice and come when you call him is the greatest feeling.)
I've been so fortunate to be present for some historically significant races like American Pharoah's Derby, when I drove down from Michigan (and then back the same day!) one week before I graduated college; I ended up taking two finals with four hours of sleep in the previous two days, and Enable's Breeder's Cup Turf. The horses' love for competition – demonstrated perfectly by my guy Da Hoss in his second Mile victory – is intoxicating. I've also been lucky to spend time on the backside of both famous racetracks and smaller ones, where the industry demonstrates both its workmanlike efficiency and it's love for the animals, from the stakes horses to the maiden claimers. I've witnessed jockeys in tears after a horse gets hurt. I've seen trainers stand in the stall with a horse for over an hour waiting for a vet when the horse simply "seems a little off." I've had stud grooms at major farms tell me that "maybe it's not macho to get attached to them or whatever, but we all do, and if anyone says they don't, they're lying." I love hearing those stories. My field of study is history, and I think the best way, as a fan with otherwise no sway, to make sure the sport lives on in a positive way is to tell stories, which I try to do whenever and however I can.
---
18.) My name is Wendy Lembke and I support horse racing. I spent this morning talking to people who work on the backside at Los Alamitos. Jeannetta Myers and I greeted grooms, hotwalkers, exercise riders and trainers while handing out wristbands and buttons that state "We Support Horse Racing." We offered these items along with a few friendly words: that we appreciate them, that we know the good care they provide, that we hope the can continue in their vocations and that there are many people who not only care about but stand with them.
The best part of my morning was more of a feeling than any specific conversation. It was how the priceless expressions on the faces of these men and women touched my heart. They were simply going about their work on a typical morning. Perhaps some were grateful for the support or interest of a stranger, others may have been amused, surprised or had a flash delight at a simple gift. I suspect some could have been happy for a smile or a tiny break in routine. A few might have had a combination of all these things. It just felt like they really do appreciate the support. I guess what I am really trying to say is, it was an excellent morning. -Wendy Lembke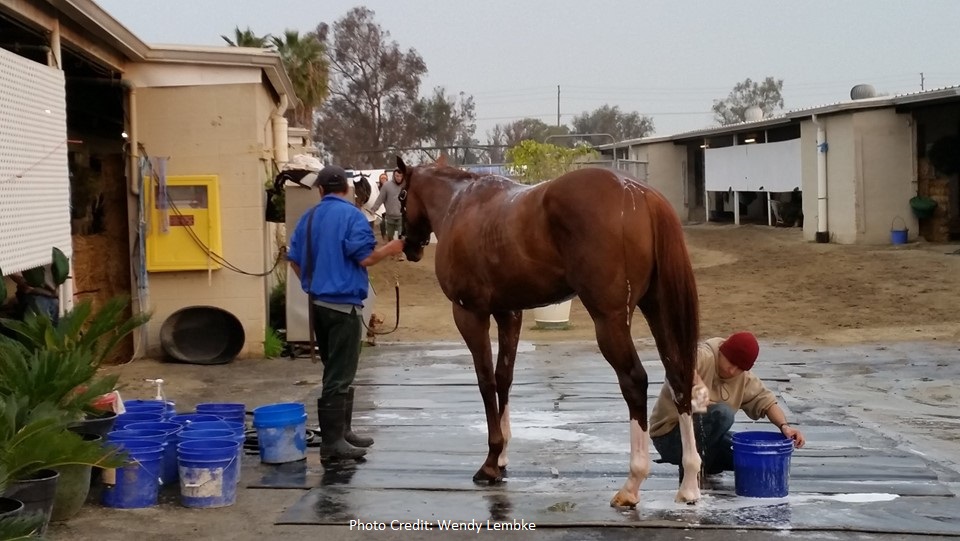 ---